I saw a post a couple of months ago by Patty Mitchell (reigning champion of online oboe journalism) about the iPhone app Oboe Reed Maker PRO, and decided to bite the bullet, part with the $1.99, and take it for a spin. Here is my review. As is my custom lately, I have tried to keep the review balanced and accurate by involving the maker of the product. In this case that is Christopher Gaudi of the San Francisco Symphony and OboeClass.com.
(Note that this is a review of version 1.0 of the app, so if you're reading this after my publication date, then the app may have changed by now. I'll update this post if I use any future versions that have changes worth mentioning; you're also welcome to add your own updates in the comments.)
In the world of iPhone apps, I've grown accustomed to getting a lot of good stuff for free, and hesitate even to buy a 99-cent app unless I'm sure it's going to be great. For $1.99, it had better be outstanding! However, in the past I've paid the better part of $100 for individual books on reed making, so, realistically, $1.99 isn't much if you're looking for a few tidbits of information. And that's what this app offers. If you're interested in this thing, think of it as a very cheap book (a pamphlet, really), rather than an expensive app. Here is the main screen, as shown in the iTunes store: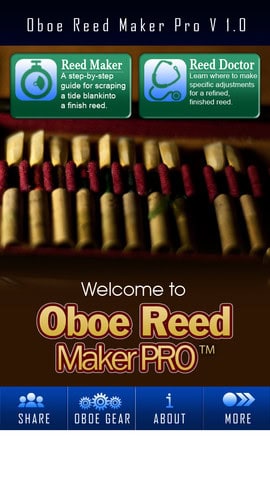 If you're reading this on my website you'll see a border that I have added to the image, which reveals some white space at the bottom (the border might not show up in RSS feeds, etc.). Note that this space, in the actual app, contains an advertisement (at the moment, a 1-800 number for a criminal defense attorney). In my opinion, including ads is bad form for a paid application. There are additional monetization efforts built into the app. The "Oboe Gear" button leads to affiliate links to Amazon products, which are providing someone, presumably Mr. Gaudi, with additional income. The "More" button provides income-generating affiliate links to additional paid apps, some ostensibly music-related, some not. Mr. Gaudi responds:
I can understand the criticism of the ads in a paid app though I hope you can understand the need to monetize it. The app wasn't created for free. There was a considerable cost to produce it and there are costs to revise and update it over time. I hope you can appreciate the need for monetary compensation for those who create a product for sale. My time and knowledge is worth something, just as my private students pay for weekly lessons as do countless other oboe students across the country pay for private lessons.
This is a fair response, I think, if the user knows they are paying for a product that will include advertisements; I was unaware of the ads before my purchase but you can consider yourself now warned. For every other app on my phone, paid versions are reliably ad-free. In my opinion, it would make more sense in the current app marketplace to raise the price on the app itself, if necessary, and scrap the ads, or maybe keep at least some of the ads/monetization and give the app away for free.
The actual useful content of the app is accessed with the green "Reed Maker" and "Reed Doctor" buttons. The "Reed Maker" button leads to a summary of the reed scraping process, starting with a reed blank (tying is not addressed). The summary is ten pages, most with one or two sentences of text, and each showing the same image of a reed with different areas highlighted. Knife technique is not addressed, just which areas to scrape in which order. There are some interesting bits of information here, but be forewarned that this app does not attempt to teach the full process of reedmaking. (It doesn't specifically claim to, but you don't know what ground the instruction covers until you buy.) Mr. Gaudi points out: