I've been using Facebook this school year to semi-publicly acknowledge my university students who are meeting their minimum practice requirements: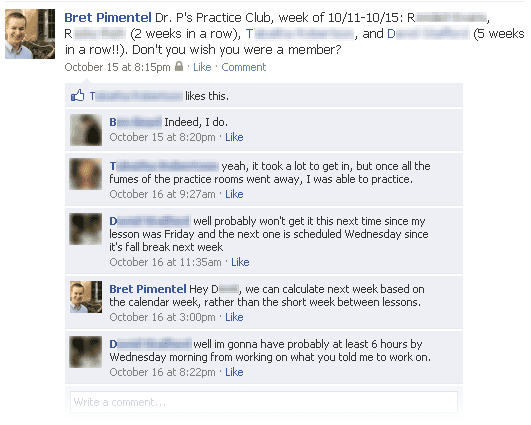 I've gotten a lot of questions about it from Facebook friends who are music educators, so I thought it might be worth discussing here.
The concept is pretty simple:
When my students come in for their lessons, I ask them to self-report their practice hours for the week. My students are good kids (born and raised in the Bible Belt), and I generally just trust them to report honestly. I also have them keep practice journals, which would at least slightly complicate fibbing about their hours.
If they meet their minimum weekly requirement (it varies: more for performance majors, less for music education majors, etc.) they are automatically inducted into "Dr. P's Practice Club" for the week. At the end of the week I post their names on Facebook and on my office door, plus usually a running tally for those who have made it for several weeks in a row. There are, at this point, absolutely no benefits or privileges to "club" membership other than a little recognition (and, of course, a week's worth of improvement).
I also use Facebook to give public kudos to students for their recitals, ensemble performances, and competition participation and awards.
Most of my students have become my Facebook friends, so I can "tag" them when I post. This means that they get alerted that they have been mentioned in my post, and certain of their Facebook friends and mine will also be able to see it. For some of the students, this may include classmates, other music or non-music faculty, friends studying music at other schools, authority figures from work or church, and even parents.