A few months ago, I posted about plastic reeds, and reported some of what I had read on another woodwind blog about the Légère Signature Series and Forestone clarinet reeds.
For reasons unknown to me, the post from which I originally quoted has been removed, but there are similar thoughts expressed in a more recent post.
Anyway, I got a kind offer from someone at Légère to send me a few samples.* They asked about my current cane reed preference, and sent three reeds in different strengths close to what I currently use.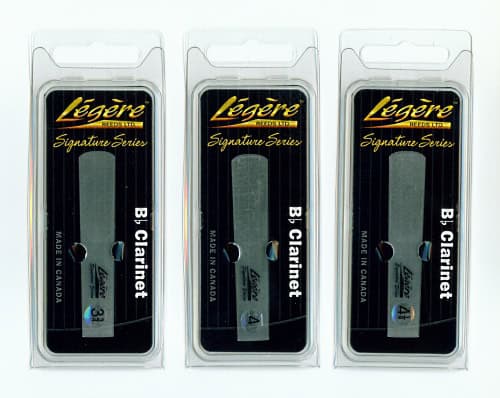 As I mentioned in the previous post, I have used Légère reeds (not the Signature Series) on the largest clarinets, but have not, until now, experimented substantially with the smaller Légères.
I am pleased to report that the Signature Series are highly playable reeds. In fact, they respond nearly identically to my current cane reeds of choice (a popular, leading brand).
I mention response first because I think it's the most important aspect of how a reed plays, but of course the question on everyone's mind is tone. I have been playing the Signature Series reeds exclusively for the past week, and I find the tone of these reeds to be clear, dark, flexible (but not overly so), and characteristic of good cane reeds.
The reeds are very well-balanced. Since the reeds I received are of different strengths, I don't think I can comment conclusively on consistency from reed to reed, but they strike me as having identical playing characteristics other than a predictable difference in resistance between the strengths (which isn't always the case with cane reeds).
With the usual traffic of students and colleagues in and out of my studio, there have been a number of raised eyebrows at the sight of a plastic reed on my clarinet. In casual demonstrations, the consensus is that these sound like the "real" thing.
Here's my exhaustive list of what I find to be different between the Légères and my cane reeds:
Inside my head, there seems to be a little more articulation noise with the Légères. However, after recording myself, I'm convinced that it's not audible to a listener. Still, perhaps it will push me to further refine my tonguing.
The flat side of the reeds seems slightly more slippery than cane, which means I have to take a little extra care to get them positioned just right on the mouthpiece.
The plastic, at least in my studio in January, feels just slightly cool against my lip. I find this minor thing to be vaguely pleasant.
That's it.
I would tend to choose the Légère over cane reeds in doubling situations and in my teaching studio, where the advantages of stability and non-warpage are clear. I also wouldn't hesitate to use them for ensemble playing. As I do have a solo recital coming up, I've been doing a little soul-searching about whether I will use the Légère in that situation. At this point, I think I can find and adjust a cane reed that will outplay the Légère by a small (very small) margin. But in a pinch I would gratefully fall back on the Légère, and I think no one would be the wiser. I think these are worth keeping on hand for just such an eventuality, even if you're not convinced that they're right for normal performance situations.
On the Légère website, you can take the blindfold test with Richard Hawkins playing the Légère against a cane reed. I figured I might as well offer my own blindfold test, so you can gauge whether the difference is audible with a clarinetist rather less accomplished than the esteemed Mr. Hawkins. Can you tell which is the plastic reed?
Sample A:
Sample B:
I understand that Légère is in the process of releasing a Signature Series reed for tenor saxophone, which I am anxious to try as well. Since they are releasing a tenor reed and not an alto reed (yet?) I assume that the saxophone Signature Series is geared more toward jazz players.
*In the interest of full disclosure:
I received three reeds from Légère at no cost, but I was not asked to do anything, including writing a review, in return. I am reviewing the reeds in what I believe to be an unbiased manner. (Phew!)