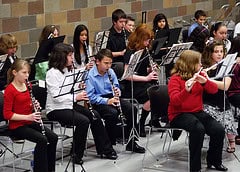 A few weeks ago I wrote about seven habits I've observed in my most successful university music students. The popularity of that article has been gratifying—to my surprise, it even briefly displaced my list of woodwind doublings from Broadway shows as the most popular thing on this site.
What I wrote was about university music students—students who, generally, have at least a half-dozen years of playing experience behind them, and who are planning to  pursue a career in music. But I think it's also worth considering the musical beginner (child or adult). Students who get a good start with their instrument have a better chance at success, no matter their goals.
Here are some habits that are characteristic of successful beginners, plus a bonus tip for woodwind doublers:
Get a teacher. This is the best money you can spend or your (or your child's) new musical pursuits. And the sooner the better—don't assume that you need to struggle on your own for a while before a teacher will take you on as a student. A good teacher can guide you through purchasing or renting your instrument, teach you good playing and practicing habits, troubleshoot problems, and model excellent playing. And you may be able to get good instruction cheaper than you think. Contact a teacher of reputation in your area and find out what they charge, and, if it's more than you can spend, ask if they can recommend one of their top students as a beginning teacher. I'm a university music professor, and I charge more than some beginners would be willing or able to pay, but I'm pleased to recommend my advanced students who are anxious for some teaching experience, who work cheap, and who will teach you the same things I'm teaching them.
Get good advice on equipment purchases. See habit #1 for the best solution to this. Be extremely wary of advice from mail-order catalogs, internet message boards, eBay sellers, and commissioned music store salespeople who don't play your instrument. My beginning woodwind students who start with inferior or poorly-adjusted gear often develop poor playing habits in an attempt to compensate for the instrument's/mouthpiece's/reeds' shortcomings, and are far more likely to get frustrated and quit. You don't need a fancy car to learn how to drive, but you do need working brakes, steering, and signal lights.