[This is an old version. Check out my newer post for instructions for Word 2016.]
Here's how to set up Microsoft Word to automatically insert sharp, flat, and natural signs for you. Instructions are for Word 2007 running on Windows Vista, and may need to be adapted slightly for your setup.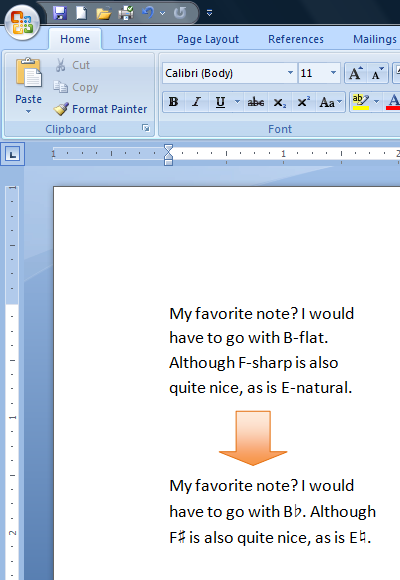 Open up a new Microsoft Word document.
Type the following:
266d
Then press Alt-X. The "266d" should turn into a flat symbol.
Highlight the symbol, and press Ctrl-D. This brings up the Font dialog box. Use your up and down arrow keys to scroll through your fonts, and notice what happens in the "Preview" area. Some fonts will display a flat; some will display a box or some other symbol—not all fonts include the flat symbol. Choose one that is to your liking, and click "OK." I chose "MS Reference Sans Serif."
The flat should still be highlighted. Click the "Office Button" in the upper left-hand corner, then click the "Word Options" button on the menu that appears. A dialog box appears; click "Proofing" at its left-hand side. Click the "AutoCorrect Options…" button. On the "AutoCorrect" tab, make sure "Replace text as you type" is checked. In the "Replace:" box, type:
-flat
Next to "With:," make sure "Formatted text" is selected. Your flat should be in the "With:" box. Click "Add," then click "OK" twice.
Hit Backspace to delete the flat from your document. Then do a test run by typing:
B-flat
Then hit the space bar. You should see something like this:
Hit backspace three times to erase what you just typed, then repeat steps 2-6 for the sharp and natural signs. In step 2, use "266f" for sharp and "266e" for natural, and in step 4 use "-sharp" and "-natural."
A few final thoughts:
The fonts available on your system might be different from mine. Any font with "Unicode" in the title (like "Arial Unicode" or "Lucida Sans Unicode") is likely to have the music symbols, but others might have them, too. I like the MS Reference Sans Serif font for this because it produces appealing symbols AND because it doesn't mess up my line spacing. In the sample below, you can see that on the left, the line spacing remains consistent (the flat is in MS Reference Sans Serif); on the right, the flat symbol takes up more vertical space and makes its line taller (Lucida Sans Unicode). Experiment with the fonts on your system that have the music symbols, and find one that works for you.

If you use music notation software such as Finale on your computer, you may have notation fonts installed. I find these to be problematic for use in Word, and prefer to stick with text fonts.
If you are in the habit of using the pound sign (#) and lowercase b for sharp and flat signs, first of all, shame on you for such unprofessional documents. Secondly, you might be tempted to set up your AutoCorrect to use these instead of the (for example) "B-flat" that I have suggested. The problem with doing this is that you will have to create a separate AutoCorrect entry for each note (Ab, Bb, Cb, etc.).
If for some reason you want to type "-flat," "-sharp," or "-natural" and override the automatic change, type what you want and then press Ctrl-Z (Undo) to change the symbol back into text.