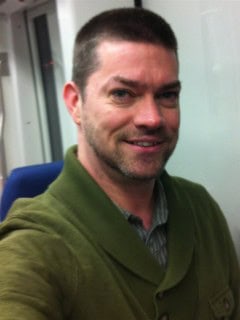 I'm always pleased to hear from other woodwind players. Terry Halvorson has been a contributor to my Broadway woodwind doubling list for several years, we've communicated periodically online, and we even bumped into each other in person at an IDRS conference a few years back. Terry has been working as a musician with touring musical theater productions for a while now, and I was curious about life on the road. He was kind enough to take some time out of his schedule to answer a few questions.
BP: What do you do for a living?
TH: I am a woodwind doubler (oboe/English horn, flutes, clarinets, saxophones, recorders, whistles). I am currently 44 years old and have been performing musical theater since I was 14. I have been playing the Reed 2 book (oboe and English horn) with the national tour of Disney's Beauty and the Beast since February 2010 and will be continuing, switching to the Reed 3 book (clarinet, bass clarinet, 2nd flute) from late September through May 2013.
How did you get the job?
I was called back in late 2005 by a musical director friend to play a reed book on the tour of Will Rogers Follies, but I had commitments at the time that I couldn't get out of, so I had to turn it down. However the reed player who was hired gave notice four months into the eight-month contract and I was able to join the tour in the middle, replacing him (my first experience seeing a high D on flute!). Toward the end of this tour, we were in the New York City area when NETworks Presentations (my current company) was holding musician auditions, and I was able to attend; I received a call five weeks later asking me if I would like to play with the national tour of The Producers, and here I still am!
What background (education, other experience, etc.) do you have that prepared you for this job?
Wow, loaded question… well, I have been a major woodwind geek since high school (I arranged my favorite band piece for mixed clarinet sextet when I was 14 years old, and we won a command performance at our regional solo and ensemble festival); I also played oboe, clarinet and bassoon in my local youth symphony in various years. I was, of course, a music major (oboe and clarinet) in college as well, beginning as an education major but switching to performance. I freelanced a LOT, playing mostly reed books 2 and 3.
What's the best part of the job? What's the worst part?
Best parts are having a steady paycheck as a performing musician (how many people can say that?) and of course seeing and experiencing all the different places we play; I have played all fifty states and most Canadian provinces. The worst part is probably the lack of freedom to come and go and the strict adherence to a schedule.
What's it like being on the road?