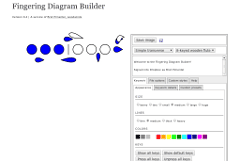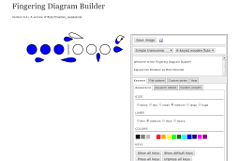 Hello, friends. I'm excited to share the latest round of improvements to the Fingering Diagram Builder. Thanks to all for your suggestions and bug reports, for your donations (every little bit helps), and for sharing with me some of the cool things you are making with the fingering diagrams.
A few names that need mentioning for recent extra-awesome support and/or ideas are bassoonist Dave Wells (check out his high-quality and handsome bassoon fingering charts), saxophonist/doubler Evan Tate, saxophonist Bart Walters (who blogs over at Music Collective), pianist Jason Gray, and clarinetists Kellie Lignitz and Rachel Yoder (who included the FDB in their column in The Clarinet and on Clarinet Cache). You internet people sure are nice!
Check out version 0.4 of the Fingering Diagram Builder, or read on for a guide to what's new and improved.