Back in the olden days (2002), I wrote a paper for a college class on Rahsaan Roland Kirk's simultaneous playing of clarinet and saxophone on "Creole Love Call" from the 1967 album The Inflated Tear. (When I started up this blog, the paper retroactively became a blog post.) In my paper, I included two fingering charts—one for right-handed clarinet, one for left-handed saxophone—that I thought looked pretty good and only took me a few hours to make. Ah, how young I was.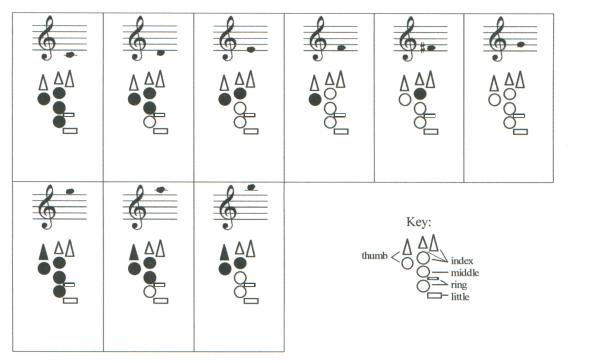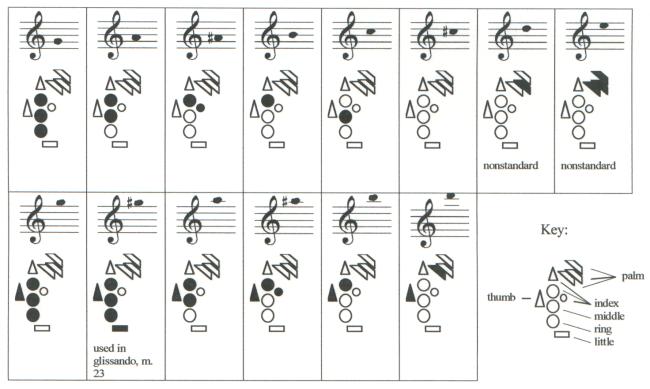 Clearly, the time has come to update these sad old charts, and the Fingering Diagram Builder makes it fast, easy, and, dare I say it?—fun. I'll show you how it's done, using three particularly cool features (if I do say so myself) of the FDB. We will take a look at the FDB's custom styles, custom keywork presets, and Dropbox integration.
Custom styles
For now, my plan is just to create enough diagrams to replace the ones in these old fingering charts—just the fingerings I figure Kirk must have used. But I don't think Rahsaan would want me limiting myself to just those fingerings in the future. I'd better set up this project in such a way that I can come back later with new one-handed fingerings I've discovered, and add them to the charts with a minimum of fuss.
The problem is that, what with the FDB's highly customizable diagrams, I may not remember tomorrow whether the ones I made today have lines that are "medium" or "thick" or "heavy," or whether I sized them "small" or "tiny," or whether I was saving the diagrams as .PNG files for onscreen use or .TIF files for better printed results. The FDB does, of course, remember my current settings between sessions all on its own, but I like to work on several projects at once (Rahsaan would approve, I think) and I'll use the FDB's "custom styles" to keep each project's configuraton a click away. Here's how:
First I will set up things just the way I want them. Currently, settings that can be saved as part of a custom style are: diagram size, line thickness, color, file naming procedure (let the FDB name them automatically, or specify each filename myself), file format, save-to location (my computer or my Dropbox), and, if I'm using Dropbox, which folder to save the files in.
Once everything is just right, I'll click over to the "Custom styles" tab in the FDB's menu to review my choices, and select which ones I want to save.

As you can see, I've set the diagrams to be small, heavy-lined, colored in gray, .PNG-formatted, and saved to Dropbox in a folder called "kirkismyhero." I have un-checked the box for "File naming," since I don't want the FDB to remember that for my purposes on this project—I'll just go ahead and use whichever system I'm already using that day.
I'll type in a name ("kirk project") for my custom style, and click the "Save current settings" button (or press Enter).

I'm done—that's all there is to it. In the future, whenever I want to create more diagrams like the ones I'm making today, I can just go to the "Custom styles" tab and click on "kirk project."