A new Internet friend shared this gem with me (click for slightly larger):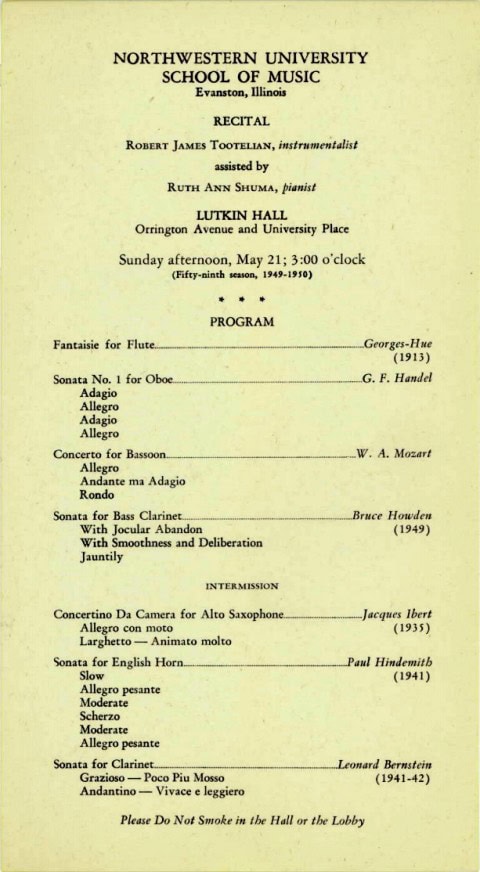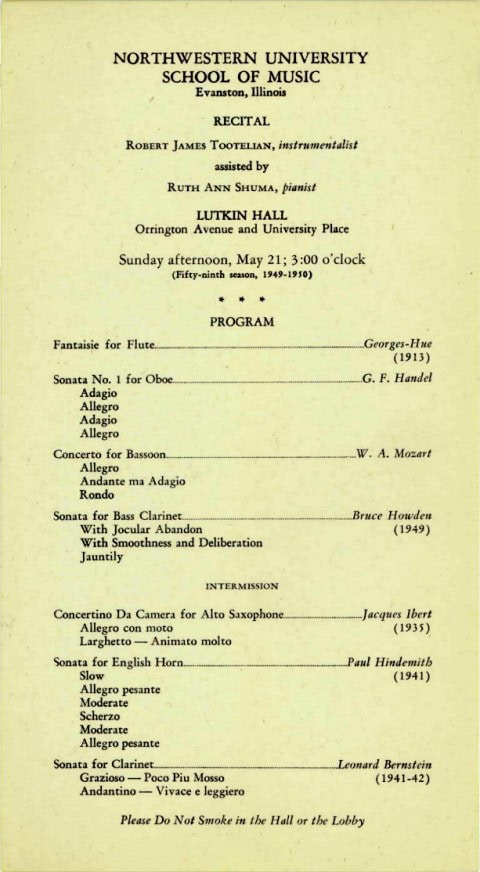 Continue reading "Woodwind doubling recital program, Northwestern University, 1950" →
Below are a few audio clips from my recent faculty woodwinds recital at Delta State University.
At this point it's gotten hard for me to imagine doing a full recital on a single instrument. I enjoy getting to play several, and audiences seem to enjoy the variety. And since this was my first faculty recital at my new gig, I wanted each of my students to hear me perform something from the core repertoire of their instrument.
I would like, ultimately, to be able to put together a full recital of woodwind pieces without making any special concessions for the fact that I am playing multiple instruments. In this case I did play it a little on the safe side: I chose a program that was not overwhelmingly technical, and I programmed something short of an hour's worth of music so that I could take a few extra minutes between pieces.
One note-to-self for next time: I experienced a few onstage symptoms of not being thoroughly warmed up on each instrument (water in oboe toneholes, low note response issues on bassoon). I purposefully avoided playing too much on the day of the recital, but I think I can find a better balance the next time around. Continue reading "New sound clips: Faculty woodwinds recital, Feb. 15, 2010" →
Bret Pimentel, woodwinds
Kumiko Shimizu, piano
Department of Music
Delta State University College of Arts and Sciences
Recital Hall, Bologna Performing Arts Center
Monday, February 15, 2010
7:30 PM
PROGRAM
Sonate for oboe and piano
Paul Hindemith (1895-1963)
Munter
Sehr langsam – Lebhaft
Sonata for clarinet and piano
Leonard Bernstein (1918-1990)
Grazioso
Andantino – Vivace e leggerio
Rhapsody for bassoon
Willson Osborne (1906-1979)
Concerto for alto saxophone
Pierre Max Dubois (1930-1995)
Lento espressivo – Allegro
Sarabande
Rondo
Continue reading "Faculty woodwinds recital, Feb. 15, 2010" →