I don't typically do reviews of new sheet music publications unless they have a specific woodwind-doubling focus, but I'm making an exception here because I think this is a project that is especially useful and has potential to change the landscape of "classical" saxophone repertoire (and other instruments, too).
I have a repertoire problem. My file cabinet is full of wonderful, important music that is written almost exclusively by dead white men. I would like to change that—to perform and teach music representing a greater diversity of composers, and particularly living composers.
But it's hard to escape the inertia of the "standard repertoire." And sorting through mountains of new pieces by composers I haven't heard of (yet), to find the best ones, the ones at the right difficultly level for my students, and so forth, could cost me thousands of dollars and thousands of hours. It's daunting, and so I fall back on the same pieces I've taught over and over.
NewMusicShelf Anthology of New Music: Alto Saxophone, Vol. 1 is an elegant solution. For the price of a standard-repertoire concerto, it contains 16 works composed (or at least revised) within the last 20 years. The composers (listed on NewMusicShelf's website) are diverse and distinguished. Many are young.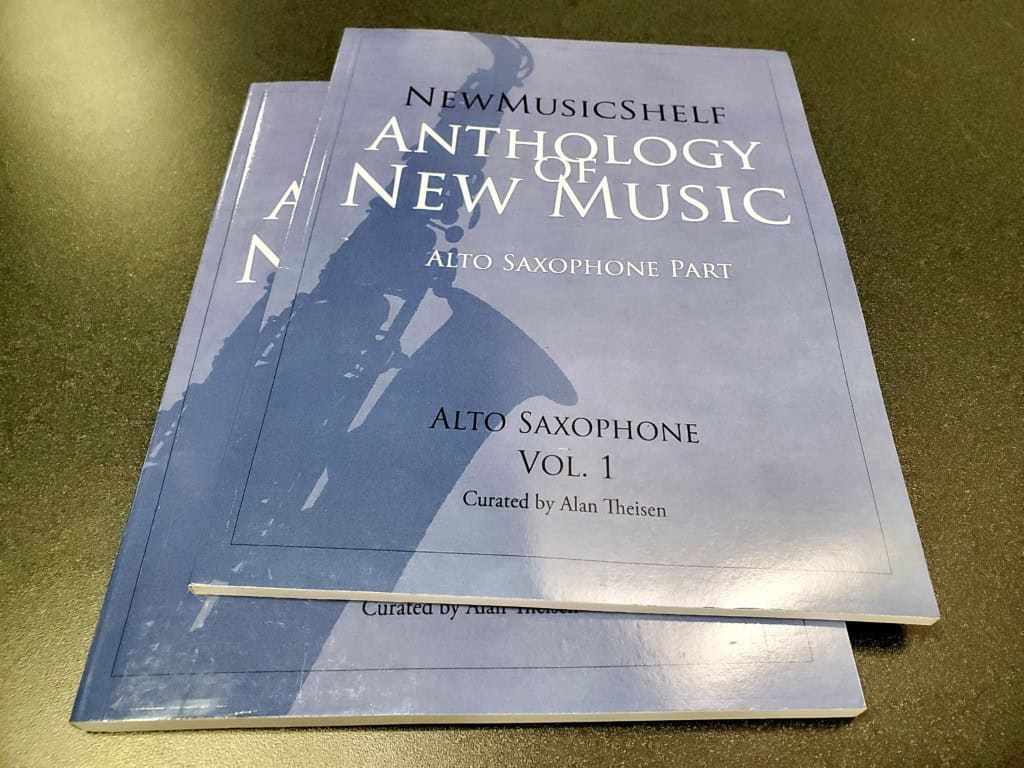 The collection is curated by Alan Theisen, a composer and saxophonist well-positioned to accomplish this task due to his interests and connections in the world of new music. (One of his own compositions is included in the anthology.)
For me as a performer and educator, this anthology helps solve several problems: the pieces are thoughtfully selected for quality and variety, the publication is very affordable, and its presence in my studio is a strong step toward currency and representation in concert saxophone music. All are for solo alto saxophone or saxophone and piano, so the performance logistics are simple (no large/unusual ensembles, electronics, or other potential barriers). The pieces are playable by undergraduate-level students (but, as Theisen points out in his introduction, "absolutely suitable" for more advanced players as well). It's an easy, cheap, and practical way to grow my performing and teaching repertoire. (This is an unsolicited review of a copy I purchased myself.)
A couple of small complaints: the saxophone and piano parts are "perfect bound" (like a paperback book) and thus don't lay flat on a music stand. NewMusicShelf indicates on their website that this is to facilitate library shelving (and points out that, hey, you can disassemble and re-bind it yourself if you want), but I'd rather see a more performer-oriented solution. And the books contain a web link promising composer headshots and program notes, but the link is currently broken and I couldn't locate the content on the website. Still, a very worthwhile purchase.
The "Volume 1" label is hopefully indicative of more to come. A flute volume appears to be in the works, and calls-for-scores for clarinet, bassoon, and some other instruments are currently open. Collections for voice and for viola are already available. Kudos to NewMusicShelf and Alan Theisen for this extremely valuable aid for teachers and performers.
NewMusicShelf Anthology of New Music: Alto Saxophone, Vol. 1