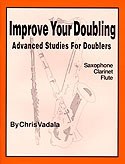 I only know of one etude book geared toward woodwind doublers, and it's Chris Vadala's Improve Your Doubling: Advanced Studies for Doublers (Dorn Publications, 1991).
Mr. Vadala is on my list of "notable woodwind doublers," and certainly he is an outstanding player on single reeds and flute, but I think what makes him really notable in the (tiny) world of woodwind doubling is that he jumped on the opportunity to establish himself as an expert in the field, by writing this etude book and by contributing a semi-regular column, "Tips on Doubling," in Saxophone Journal throughout the 1990's. If you find yourself in the odd position of trying to do scholarly research on woodwind doubling (like I do, now and then), you find a lot of Chris Vadala and not much of anybody else.
So. I'm generally leery of anything that is "for doublers." I don't want, say, a clarinet mouthpiece "for doublers"—I want a clarinet mouthpiece for clarinetists. What do I want to sound like when I play the clarinet? A doubler? No. And so I find the idea of an etude book "for doublers" to be a little problematic—wouldn't I be better off using the tried-and-true etude books for each individual instrument?
This book isn't an all-in-one source designed to do the job of a program of flute study, a program of clarinet study, and a program of saxophone study. There are definitely things here to challenge and hone your flute, clarinet, and saxophone skills individually, but you'll need to deal with the standard etudes and exercises associated with each of these instruments on their own. And, frankly, you will need to do that before you pick up the Vadala book, because this is seriously unforgiving stuff.
This book isn't for beginners or casual doublers. Vadala, with ill-concealed glee, mercilessly harps on the most difficult issues of each instrument, and of switching between them (each etude involves flute, clarinet, and a saxophone of your choice). Don't expect to spend much time playing in easy keys or in the comfortable middle register. There are also exercises involving sight transposition, improvising harmony lines, and other challenging and useful on-the-gig (but not necessarily doubling-related) stuff.
This book also isn't double-reed friendly; it's strictly flute-clarinet-saxophone doubling. That should do it for most jazz saxophonists who are working on their flute and clarinet chops, but, of course, the rest of us will have to rely on Barret and Milde to get our oboe and bassoon chops up to snuff. From this book and Mr. Vadala's columns, it seems that he isn't a double reed player, himself.
This book is an excellent wake-up call to aspiring doublers who think that they can squeak by without gaining fluency in the flute's upper octave, or without working their clarinet fingerings in every key, or without mastering the lowest notes of the saxophone, for example. The introductory text is a good, common-sense introduction that deals with some basic issues about doubling. (Click here to read it online at the Dorn Publications website, and see a sample etude.) It is a substantial amount of material, 70 pages of etudes. And, well, it is the only book of its kind.
Presumably this book is intended for a fairly small market—fairly advanced flute-clarinet-saxophone doublers. I think there might be more of a market for a beginning doubling etude book, something that would challenge beginning doublers to achieve a thorough basic mastery of each instrument, without overwhelming them with extreme technical demands. There might be actually less of a market for a doubling book that involved double reeds. But hey, I would buy it.
If you dare, you can get Improve Your Doubling from Dorn Publications for $19.95.