For over a decade, all of my solo recital performances have been on multiple woodwind instruments. Last month I performed (twice) a recital program with pieces played on flute, oboe, clarinet, bassoon, and three saxophones. Here are some of the things I do to prepare.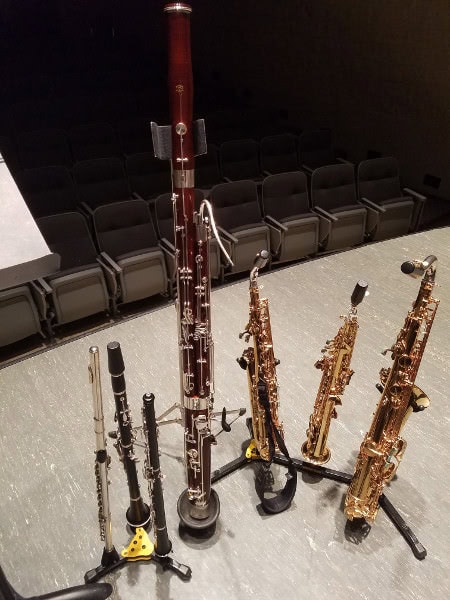 Practice the physical changes. I opened my program with an oboe piece, and followed that with a flute piece with a delicate entrance. As the recital approached, I made sure to follow each oboe practice session by practicing that flute entrance, to be sure I could do it under those conditions. Something that didn't work very well: after the oboe, flute, and bassoon pieces, my hands and jaw tended to be a little tense for clarinet playing. If I were preparing this recital again, I would bump the clarinet to the end of my practice sessions to work on playing relaxed even when fatigued.
Practice the mental changes. If I can put myself into the right place mentally for the instrument I'm about to play, my physical technique seems to fall into place. Sometimes I will do some rotating warmups—play, for instance, some scales on one instrument, and then immediately play them on another, and another. That gives me a chance to practice shifting mental gears. Once I have my program order set, I also make liberal use of Post-it Notes to give myself reminders between pieces: "take a moment to relax embouchure," "keep breath support strong in low register," "clear moisture from octave vent."
Make thorough checklists. With seven instruments on my most recent recital, I surely would have forgotten something—a bassoon seat strap, a case of clarinet reeds, a piece of sheet music. I made a detailed list and used it to set up for a dress rehearsal. Sure enough, there were a few things that hadn't made it onto the list, and I was able to retrieve those items and add them to the list before the first public performance. When I traveled a few hours for another performance, I was confident that I had everything I needed.
Use good stands. Good ones are sturdy and make it easy to set down or pick up an instrument without fuss. Since I played flute, oboe, clarinet, and bassoon on the first half without leaving the stage, having some good stands kept things moving smoothly and let me stay focused.
Do thorough warmups. As the performance approaches, it's tempting to practice in panic mode, and skip over things like warmups. I always play much better if I do my warmups faithfully all the way up to the day of the performance. I find that if I warm up slowly and thoroughly on each instrument before the performance (this might take a few hours with multiple instruments! I usually do it in the morning), then I'm able to switch between them more easily.
Break a leg!