Most of my university students are music education majors, with plans to become public school band directors. Their academic schedules are absolutely packed full with core music theory and musicology classes, keyboard proficiency, teaching methods, ensembles, and of course general education requirements. There isn't room for anything extra. And yet they are required to take "applied" private lessons on their major instrument every semester in residence (on paper, that's seven semesters, with the eighth being a student teaching assignment; for many students it turns into more semesters than that). At my school, I think the requirements for the music education applied sequence are pretty typical: weekly 1-hour lessons, 12 or more hours of practice per week (that's my studio requirement for music education students), a scale/arpeggio exam, juried playing exams each semester, and a small juried recital. That's a pretty serious multi-year commitment for a student who is already swimming in term papers, exams, rehearsals, and probably a part-time job.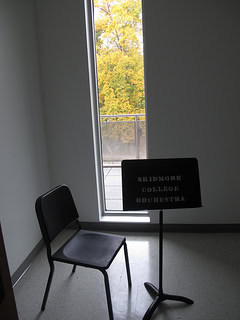 And it's likely that many of them, once settled into jobs, won't have much time to spend with their instruments anymore—they will be consumed with the endless details and crises of running a public school band program, and the ensemble itself will become their primary "instrument" for musical expression. Few of them will ever again perform solo repertoire.
So why put so much emphasis on applied study for music education undergraduates? Is it possible or wise to reduce the individual instrumental study burden? I don't think so.
Much of what I am trying to accomplish with my students isn't really about their fingers or their embouchures or their reeds; it's about their ears. I want them to learn to notice the notes that respond sluggishly or are a little out of tune or have inferior tone, the phrases that aren't smooth and coherent, the tempi that are uneven. I want them to listen on a detailed level, and then create and execute a plan for improving the way they sound. In a few short years, that is what they will need to do with a whole room full of young instrumentalists. If my students can't make it happen on their own single instruments, how are they going to pull it off with a group?
A factor that seems to be brought up often is the need for future band directors to "model" good playing for their students. I agree that this is a lovely thought, but it's ultimately a pipe dream that band directors will be able to convincingly model every instrument in the band. (Students in my woodwind methods class get a one-semester crash course in all five woodwinds). However, as a very young saxophonist I was particularly inspired when a change of band directors at my junior high school brought in a musician, a trumpet player, who was an active performer in the community—something that hadn't, before then, really occurred to me as a future career opportunity. I don't recall him ever making any attempt to model playing of my instrument, but his level of achievement and his performance calendar were eye-openers for me, and I think that example was key in my decision to pursue music seriously.
College music education majors need to be able to take individual responsibility for musicianship, able to translate a printed page into a meaningful musical performance. They need to show their students by example what it is to be a musician. And that doesn't start at the podium—it starts in the practice room.