Every so often I am told by a band director or parent that a child wishes to play a certain woodwind instrument, and then I am asked which instrument the student should "start" on, instead of the one they have apparently already chosen.
I don't see a good reason, at least within the woodwind group, for a beginner to start on a different instrument family than the one they ultimately wish to play. There may be wisdom in some cases in requiring a beginner to start with a "main" family member: a student who really wants to play the piccolo, for example, will find their opportunities limited if they do not have a strong foundation in the flute—they will be of less usefulness to a school band program, and, should they continue to more advanced studies, may find the piccolo's repertoire and pedagogical resources comparatively limited. I also think the piccolo is inherently a bit more difficult to play, although that in itself is not sufficient reason to deter a strongly-motivated student; however, for some students a more difficult instrument might be frustrating enough to bring their musical pursuits to a premature end. I likewise generally recommend that oboists start with the oboe rather than the English horn, clarinetists start on the B-flat instrument rather than a "harmony" clarinet, bassoonists leave the contrabassoon until later, and saxophonists start on the alto, or maybe the tenor.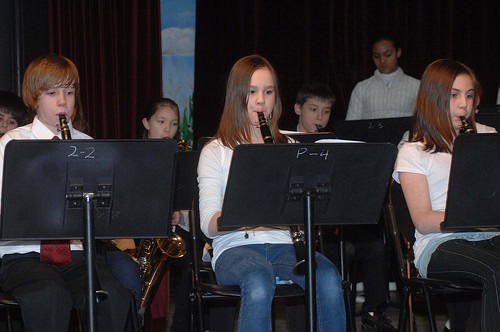 But I also sometimes run into an attitude that, for example, an aspiring saxophonist really should start on the clarinet. This, I believe, comes from an outdated school of thought that considers the saxophone a "color" instrument in the clarinet family, and concludes that you should start with the "main" instrument, the clarinet, in the same way that you would start with the flute and later add the piccolo. (It may even stem from a more outdated idea that the saxophone is vulgar or a novelty, while the clarinet is respectable.) But surely the saxophone has by now earned full membership in the wind band and has a sufficiently rich solo and chamber repertoire that it need not be seen merely as the clarinet's half-sibling.<!—more—>
I encounter a similar approach to the double reeds, in which a beginner is made to start with something "easier" or cheaper or more common, like the clarinet, and is later permitted or required to switch to the oboe or the bassoon. If the cost of starting a beginner on a double-reeded instrument is prohibitive (and in some cases it may well be) then I suppose a less-costly instrument is better than nothing. And parents or band directors may have other reasons to delay putting an oboe or bassoon in a beginner's hands: to make sure the student can be trusted with good instrument care before issuing them an expensive bassoon, for example. And I know that some band directors feel underqualified to teach the double reeds (join the club), and may wish to postpone for reasons rooted in that insecurity.
But as far as I am concerned there is no sound pedagogical reason to start a student on one instrument and then move them to another. If a student wants to be an oboist, the best hope for their success is to get an oboe into their hands as soon as possible (and, preferably, connect them with an excellent private teacher).
Still, some parents or educators, insisting that the "switch" is a foregone conclusion, press me on which instrument is the best pre-switch instrument for the student to learn. In my opinion, it makes no difference whatsoever. I think there is more harm than advantage in trying to choose a "similar" instrument; a flutist switching to saxophone can learn the embouchure from scratch, while a clarinetist switching to saxophone may find it more difficult to shed clarinet habits. Ditto for "similar" fingering systems.
Encourage your beginners to play, within reason, what interests them most.