A few years ago I reviewed Gene Kaplan's Duos for Doublers, a set of duets for woodwind doublers playing flute, clarinet, and saxophone. I was pleased to hear from Gene again recently about his new Duets for the 'Double-Reed Doubler.' It contains seven duets in a variety of styles, with one doubler playing oboe, clarinet, and alto saxophone, and the other playing clarinet, bassoon, and tenor saxophone. (No flute in either part.)
The books (a set of two, one for each player) are neat and easy to read, with well-placed page turns and spiral binding. Like the Duos for Doublers, this set currently costs $30.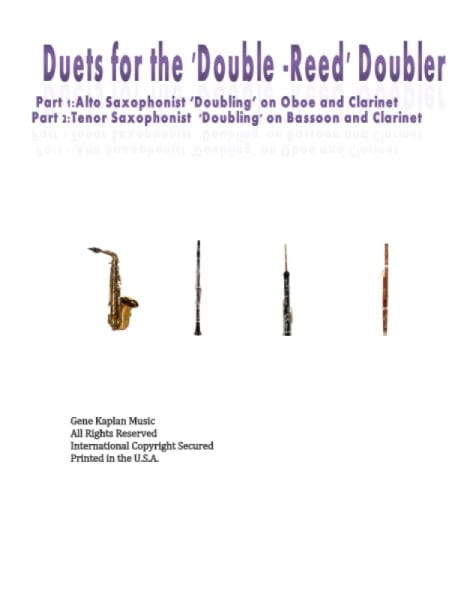 I'm pleased to see more materials making their way into the world that address the growing pressure on woodwind doublers to be skilled double reed players. The idea of "doubling" meaning just flute, clarinet, and saxophone is increasingly a thing of the past. Working on doubling in a chamber music setting, like these duets, is a useful way to improve your skills as a soloist-level player of multiple instruments.
Here's a demo of one of the duets, called "Machinations:"
I wouldn't call these duets easy, exactly, but they aren't overwhelming for doublers with a little background in each instrument. All the instruments stay mostly in their lower and middle registers. The oboe rarely ventures outside the staff, and the bassoon stays squarely in bass-clef range. There are some fast switches (catch me trying to play bassoon with the tenor in my lap in the demo video), some tricky navigation of the clarinet's throat-to-clarion break, some articulated low notes in the saxophones, and other real but not unusual challenges.
These duets are a fun an interesting challenge if you have a doubler friend to practice with. Head over to Gene's website to get your copy.