About a year and a half ago I reviewed Ben Britton's book A Complete Approach to Sound for the Modern Saxophonist, which is full of excellent information and exercises for development of fundamental tone production technique. Ben has just released a new book, and I was pleased to get a sneak preview.
A Complete Approach to Overtones: Vivid Tone and Extended Range builds on A Complete Approach to Sound's foundation with 50-some pages of overtone exercises and explanatory text. Overtone exercises are often associated with development of the altissimo register (Eugene Rousseau, for example, uses overtones extensively in his altissimo book), but this book is not specifically altissimo-oriented; it is a more broad-based approach to improving every aspect of tone production (particularly tone, intonation, and response).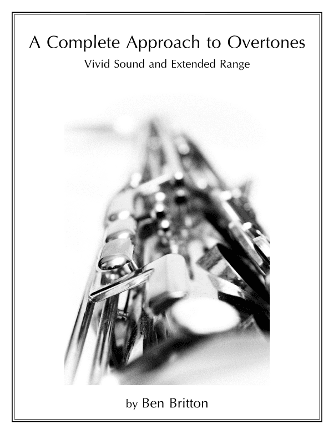 The exercises are very thorough and systematic. A number of the exercises are similar to the simple ones I use with my own students, but Ben's are better thought-out and cover the technique in a much more complete way. Between the book's thoughtful organization and incisive text, it covers all of the usual frustrations that overtone beginners deal with; any saxophonist with a general command of the instrument's basics should be able to jump right in and start hearing results. At the same time, the material is enough to keep an advanced saxophonist challenged for quite a while. This is a book that could very well be studied as a high school student, reviewed again at the college level, and re-reviewed throughout a professional playing career.
Grab your copy (paper or digital) now and thank me later. While you're at it, pick up A Complete Approach to Sound and Ben's album Children at Play.
Linkage: