Printed jazz music often uses chord symbols to indicate the music's underlying harmony. As with the Roman numeral system used in classical music theory, jazz chord symbols may be used as a tool for analysis. But they are also used for performance, like Baroque figured bass notation, with the musicians using the symbols as a framework for improvising melodies and/or accompaniments. In jazz, the symbols are  generally non-specific with respect to inversion, and players of chord-capable instruments (such as piano or guitar) in jazz are accustomed to making independent choices about inversion and voicing. Depending on the situation, printed jazz music may include written notes only, or notes plus chord symbols, or even chord symbols alone.
Simple major triads aren't common in most "modern" (post-1940) jazz. But in the rare cases that they do appear, they are indicated with a single note name:

The letter "C" above the staff is the chord symbol. The notes shown on the staff here are the corresponding pitch classes, stacked in root position in the thirds familiar to students of classical theory, though a jazz musician, composer, or arranger would rarely voice a chord in this way.
Almost always, there should some variety of seventh specified, using the numeral 7 (and when it isn't specified, it is often implied). By convention, using the 7 alone with a note name indicates the lowered seventh:

When a major seventh is intended, it must be specified. Most of the time, when a jazz musician thinks of a "major" chord, this is the chord he or she means, since it is more colorful and stylistically characteristic than the plain triad. A triangle symbol has become common, and is preferable because it is unambiguous and easy to read. Several other symbols are common, however, such as a capital M or some abbreviation of the word "major." (These persist likely in part because they can be typed using symbols available on a standard computer keyboard.)

The major sixth chord is encountered on occasion, which contains a major sixth scale degree rather than a seventh; jazz musicians will often treat this as interchangeable with the major seventh chord when improvising melodies or accompaniments.
Minor chords are best indicated with a minus sign, and almost always include a lowered or minor seventh. Lowercase m or an abbreviation of "minor" are also fairly common, but, especially in handwritten scores, can be easily confused for major chords.

Half-diminished chords are expressed in two common ways. The slashed-circle is preferable due to its concision, but the minor-seventh-flat-fifth notation is perhaps equally ubiquitous.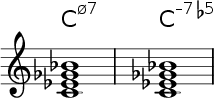 Diminished (or "fully diminished") chords also have two common symbols, one using a circle (preferable), and one using an abbreviation of "diminished."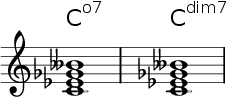 It is worth noting that jazz composers and arrangers tend to prefer legibility over pedantry, and in many cases will use enharmonics to avoid double-flats and the like.
So-called suspended chords, which use the fourth scale degree rather than the third, are commonly referred to as "sus" chords, due to the abbreviation commonly used in their chord symbols:

Note that the term "suspended" is used here to describe the quality of the chord, but in jazz music the term does not necessarily indicate the chord's function—that is to say, the "suspension" may not resolve as expected. Similarly, seventh chords (with the seventh lowered, remember) are sometimes referred to as "dominant" chords, even if they do not serve a dominant (nor secondary dominant) function.
In addition to the basic chord types listed so far, chords can also be extended and/or altered. Chord extensions include the 9th, 11th, and 13th scale degrees (any other scale degrees would be repetitions of notes already present in the chord). These scale degrees can be added individually to a chord symbol with the word "add," but this happens only rarely. More often, the extensions are assumed to include all those of a lower number: for example, a C13 chord implies the presence of the 11th and 9th. The 11th scale degree is a special case in major chords, since it is the same pitch class as the 4th scale degree and is unacceptably dissonant in typical situations. It is almost always altered by raising by a half-step, and in the case of a major-quality 13th chord, the implied 11th scale degree is always assumed to be raised unless indicated otherwise.

Accidentals are used to create alterations, with sharps and flats loosely interpreted to mean altering the indicated note by a half-step, even if that involves (for example) adding a natural rather than a flat or sharp. In some cases, parentheses around the alterations are helpful for clarifying whether the accidental belongs to the root note (for example, a C-sharp chord with a natural ninth versus a C chord with a sharp ninth). Notes that can be altered include the fifth (flat or sharp), ninth (flat or sharp), eleventh (sharp), and thirteenth (flat); any other alteration would cause a change in the chord's basic type. Some copyists prefer a plus sign over a sharp for alterations, particularly in the case of the raised fifth—this eliminates some of the confusion about using the sharp-fifth notation in a key where the fifth scale degree ordinarily has a flat, but also introduces a number of other ambiguities.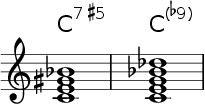 Slash chords may be made up of any chord combined with any single specified "bass" note. The bass note may be played by the bass instrument(s) of an ensemble, or in the lowest position in a chord-playing instrument's voicing (particularly if that instrument is being played unaccompanied). The bass note may or may not exist in the "upper" chord.