I've picked out, for your listening pleasure, ten essential jazz albums, as an easy introduction to the wide world of jazz. You're welcome.
I'll assume that you already love music. But maybe you're a lifelong rocker. Or a connossieur of the great classical composers. Or maybe you like both kinds of music: country and western. No matter your taste, the jazz section of the record store can be a little bewildering.
Let's face it, the jazz world is a members-only club. We jazz fans love to lord our superior musical tastes over the uninitiated masses. You listen to whom? Kenny G?! I think I need to lie down.
Plus, if you're like me, your budget doesn't quite allow for the latest comprehensive 40-disc boxed set from Verve or Columbia Records. Same thing goes for rare and valuable vinyl collector's items.
So, these ten albums have been carefully chosen to do a few things:
Introduce you to key jazz artists, styles, albums, and songs.
Keep the cost reasonable. These albums are all readily available and reasonably priced single compact discs (no expensive multidisc sets) or iTunes albums.
Preserve the dignity of the jazz tradition, by giving you the music in complete album format whenever possible. No samplers or compilations, except in a couple of cases where compilations are the only logical choice.
And, most importantly, add the pleasure and richness of the jazz world to your life!
Let's get going! We'll do this in a sort of rough chronological order.
The Short List
Click away, kids!
Louis Armstrong: Best of the Hot Five and Hot Seven Recordings
Columbia/Legacy, originally recorded 1926-1928 in New York City.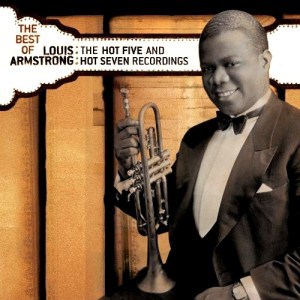 Why this album?
Louis Armstrong was the vital figure in coalescing the emerging "hot" jazz style (as opposed to the "sweet" style favored by white bands in those segregated days). There is very little in today's diverse jazz world that can't be traced directly back to these essential recordings by Armstrong's Hot Five (a quintet, of course), and the expanded Hot Seven group.
As I said, I prefer not to use compilations, but an exception is clearly in order here, since these recordings predate the LP record, and would have been released as singles. There are a number of compilations available, but this one is especially solid.
Style:
Traditional (or "trad") jazz, hot jazz, or Dixieland.
Important people:
Louis Armstrong, cornet, leader, composer
What to listen for:
Collective improvisation, with everyone playing their independent, made-up-on-the-spot parts simultaneously. This is a hallmark of Dixieland jazz. Armstrong's power as a soloist, however, forces the introduction of a new texture that will quicky become a jazz staple: that of the single soloist, accompanied by bass, drums, and maybe guitar and/or piano.
Armstrong's bold, brassy cornet sound. Popular legend says that in those days, before modern recording studios, Armstrong had to play in the next room to avoid overpowering the rest of the band on the recording.
How to sound smart talking about this album:
Continually point out how Armstrong is way, way ahead of his time.
For bonus snobbery points, pronounce the "S" in Louis, and correct people who call him Louie. Armstrong became "Louie" in the media, but always prounounced the "S" when referring to himself.
Buy it!
Duke Ellington: Best of the Duke Ellington Centennial Edition
RCA Victor, originally recorded 1927-1973.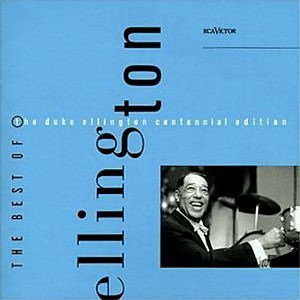 Why this album?
This album will have to represent all of the so-called "big bands" (usually somewhere from fifteen to twenty-five musicians), although the bands of Count Basie or Stan Kenton could also have taken this spot. The Duke wins out because of his timeless repertoire, as well as his unmatched stable of virtuoso musicians (which gradually changed throughout the band's history).
Again a compilation—this is the last one, I swear. We have the same problem of some of these recordings predating the LP; also, the band's longevity makes a compilation a good choice for a big-picture view.
Style:
Important people:
Edward "Duke" Ellington, leader, piano, composer & arranger
Billy Strayhorn, composer, arranger, Ellington's right-hand man
Ben Webster, tenor saxophone
Johnny Hodges, alto saxophone
Jimmy Blanton, bass
Harry Carney, baritone saxophone
Juan Tizol, valve trombone
Ray Nance, trumpet, violin
What to listen for:
The full, rich sound of the big band. The collective improvisation of the Dixieland band has been abandoned in favor of a more organized, orchestrated sound, with the musicians reading their parts from sheet music.
Individual personalities. Ellington and collaborator Billy Strayhorn write music with individual musicians in mind, highlighting each band member's characteristic and idiosyncratic style.
Antiphonal writing, in which a soloist or group is contrasted against another soloist or group in a conversation, an exchange, or even a battle.
How to sound smart talking about this album:
Admit that you admire the new directions that the band explored post-1950, but you really prefer the more raw sound of the Blanton-Webster years (about 1940-1942, when bassist Jimmy Blanton and saxophonist Ben Webster made essential contributions to the band's sound).
Buy it!
"The Quintet": Jazz at Massey Hall
Debut, recorded 1953 in Toronto, Canada.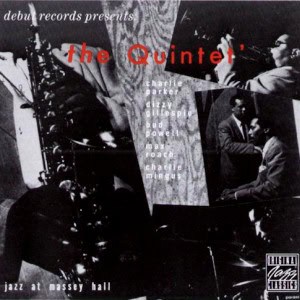 Why this album?
"Bebop," the fast-paced, virtuosic, harmonically inventive music generally associated with New York City and the mid-1940's, makes arguably its definitive statement in this recording in Toronto in the 1950's. The founding fathers of bebop are at the top of their game here, playing their most characteristic repertoire with wild abandon.
The so-called "Quintet" isn't a formal group, just an auspicious meeting of the minds. By 1953, however, most of these musicians had played with each of the others many times. The important thing is that we get each of these five incredible and important musicians all together on one disc.
Style:
Important people: everyone on the album.
Charlie Parker, alto saxophone
Dizzy Gillespie, trumpet, composer
Bud Powell), piano
Charles Mingus, bass
Max Roach, drums
What to listen for:
The breakneck tempos and virtuosic improvised solos.
The small-group dynamic. Economic pressures and the quest for something new had broken up many of the big bands by the late 1940's. Bebop musicians, freed from the heavily-orchestrated big bands, love to feed from each other's energy, "quote" each other's melodic lines, and interject humor and invention into each solo.
Complex rhythms, melodies, and harmony. Bebop is the thinking man's jazz. This isn't music for dancing or for socializing; it's music for smiling knowingly while nursing a highball.
How to sound smart talking about this album:
Think up a fictional song title, and pretend to hear Charlie Parker or Dizzy Gillespie quoting from it. "Was that a little bit of 'Purple Moon?' I could have sworn it was the triplet lick from the second bar of the bridge." Bebop fans will immediately agree with you. Others will give you blank stares. From now on you may treat all of them as hopeless squares.
Remember, Gillespie was bebop's most public figure, and popular with the media and the public, but jazz fans usually regard Parker as the more important musical figure.
Buy it!
Miles Davis: Birth of the Cool
Capitol, recorded 1949-1950 in New York City.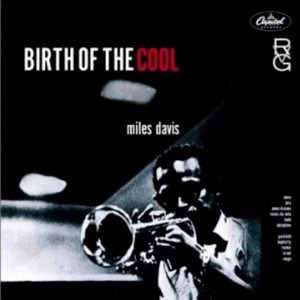 Why this album?
By 1949, Miles Davis had studied at the feet of the bebop giants, absorbed their style, and was ready to try a new direction. This album is, in fact, widely considered to represent the birth of the "cool" school, a mellower, gentler, more orchestrated sound to contrast with the fire and fury of bebop.
Style:
Cool jazz, or "Cool School"
Important people:
Miles Davis, leader, composer, trumpet
Gil Evans, composer
Lee Konitz, alto saxophone
Gerry Mulligan, baritone saxophone
What to listen for:
Heavy influence of classical music: focus on melody and counterpoint, elegance and balance of form, even use of orchestral instruments like the French horn and the tuba (virtually unused in jazz since the Dixieland days).
The refined but carefully un-virtuosic solos from Davis and saxophonists Konitz and Mulligan.
How to sound smart talking about this album:
Don't be afraid to use the word "nonet" to decribe Davis's 9-piece band. (Pronounce it like "no net.")
Buy it!
Miles Davis: Kind of Blue
Columbia, recorded 1959 in New York City.
Why this album?
Miles Davis makes the list twice in a row because of two honest-to-goodness jazz revolutions. In fact, he will continue to reinvent himself and the music throughout his career.
This album heralds the arrival of modal jazz, a style that pushes its musicians to invent and innovate within a limited harmonic framework.
Style:
Important people:
Miles Davis, leader, composer, trumpet
Julian "Cannonball" Adderley, alto saxophone
John Coltrane, tenor saxophone
Bill Evans, piano
What to listen for:
A sense of stasis created by the use of "modal" harmony, a technique in which the musicians limit themselves to a certain collection of notes.
Davis's use of "space" (silence) in his solos. Davis was known to have encouraged saxophonist Coltrane—notorious for his rapid and extended volleys of notes—to use more space in his solos, too.
How to sound smart talking about this album:
Smirk at Cannonball Adderley's solos, and remark on his inability to resist throwing in a bebop lick here and there.
Buy it!
John Coltrane: Giant Steps
Atlantic, recorded 1959 in New York City.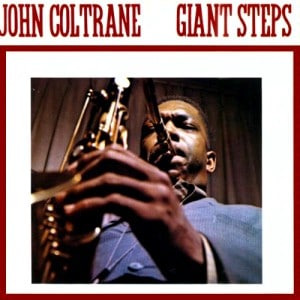 Why this album?
Coltrane's analytical mind and obsessive practice routine led him to a new sound, heard in this watershed recording. His compositions here are methodical explorations of a new harmonic direction. The complexities of Coltrane's harmonic ideas stand in stark contrast to the much simpler palette of Miles Davis's Kind of Blue album, on which Coltrane appeared in the very same year. Coltrane's album would prove to be as influential and important as Davis's.
Style:
Important people:
John Coltrane, leader, composer, tenor saxophone
What to listen for:
Angular, even jarring harmonic progressions; the building blocks of bebop arranged into a new and surprising structure.
Coltrane's stark, metallic tone, very different from the full, round, smoky sound associated with the tenor saxophone in previous decades.
Coltrane's phenomenal technical ability on the saxophone. His long, cascading volleys of rapid notes became known as "sheets of sound."
How to sound smart talking about this album:
Confess that you cried the first time you heard Coltrane play "Naima."
Refer to bassist Paul Chambers as "P.C.," as Coltrane did when he named one of the tunes on this album "Mr. P.C."
Buy it!
Horace Silver: Song For My Father
Blue Note, recorded 1963 in Englewood, New Jersey.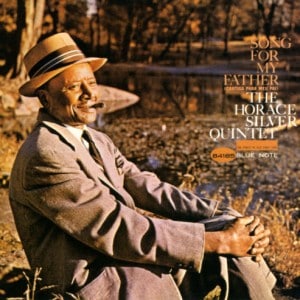 Why this album?
The designation "hard bop" applies to much of the diverse bebop-influenced music of the 1960's (including John Coltrane's 1959 Giant Steps). But Song For My Father exemplifies the sound that is most often associated with that term: it's bebop mixed with a strong element of gospel and the blues.
Style:
Important people:
Horace Silver, leader, piano, composer
Joe Henderson, tenor saxophone
Rudy Van Gelder, recording engineer
What to listen for:
Less flashy than bebop, but more soulful and gritty. The beboppers were all about clever, fluent melodic lines. The hard-boppers could do that, too—and then moan and wail with the best of the bluesmen.
The marvelous soundscape created by legendary recording engineer Rudy Van Gelder, whose Englewood home recording studio was as important to the Blue Note sound as Joe Henderson's tenor saxophone.
How to sound smart talking about this album:
If anyone comments that the title track's groove reminds them of Steely Dan's "Rikki Don't Lose That Number," you may give them the look of death. If they in any way imply that "Rikki" is a better song, you are permitted to slap them.
Buy it!
Ornette Coleman: The Shape of Jazz to Come
Atlantic, recorded 1959 in Los Angeles.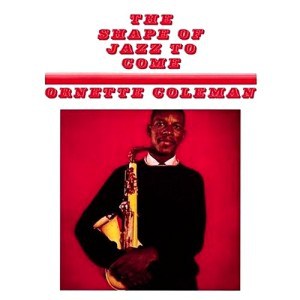 Why this album?
Ornette Coleman was a major figure in the avant garde and "free jazz" movements. While the album's title proved to be less than one hundred percent prophetic, the free-er approach of Coleman and a few others did at least become a part of the vocabulary of jazz to come.
Style:
Important people:
Ornette Coleman, leader, composer, alto saxophone
What to listen for:
If you have a trained musical ear, you may be bothered at first by the, shall we say, flexible approach to both pitch and rhythm. If you don't have a trained ear (yet?), you will still probably recognize that there are some strange things afoot here. Relax, people! This music is about coloring outside the lines. Catch hold of the expressive and emotional content, and enjoy the ride.
Coleman often cited his own theory of "harmolodics" as justification for the unconventional aspects of his music, but has never really given a satisfactory explanation of just what "harmolodics" means. Don't let that bother you. Just listen.
There's no instrument playing chords here; usually a jazz group will have a piano and/or guitar to fill that role. Instead, Coleman's quartet uses bass and drums to create a sort of pulsating background texture, which leaves the saxophone and cornet free to experiment in the foreground.
How to sound smart talking about this album:
Point out to anyone who will listen that Coleman is playing an unusual plastic saxophone on this recording.
If anyone complains that the musicians seem out of tune, treat them with pity—this music is way over their poor little heads.
Buy it!
Stan Getz and Joao Gilberto, featuring Antonio Carlos Jobim: Getz/Gilberto
Verve, recorded 1963 in New York City.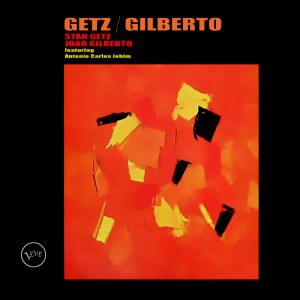 Why this album?
Since the early days of jazz, jazz musicians have been enthralled by the nuanced rhythms of Brazil and the Caribbean. This fascination came to a head—and created a brief mainstream pop sensation—with the bossa nova, a cosmopolitan blend of the Brazilian samba, French impressionist composition, and American jazz's cool school. This album is the jazz bossa nova sound at its best.
Style:
Bossa nova, or, to be less specific, "Latin"
Important people:
Stan Getz, tenor saxophone
Antonio Carlos Jobim, composer, piano
Joao Gilberto, guitar, vocal
Astrud Gilberto, vocal. Mrs. Gilberto, a housewife, was at the recording session to translate, and was apparently invited on the spur of the moment to sing on the record.
What to listen for:
Do you get the urge to dance—very slowly—when you listen to the bossa nova? That's because its characteristic groove is a half-speed version of the samba, a fast-paced Brazilian dance.
Getz's playing is unmistakably jazz, while the Brazilian musicians' contribution is decidedly bossa. This collaboration is not so much a blending of styles as it is a surprisingly effective contrast.
How to sound smart talking about this album:
Act like you are barely tolerating Astrud Gilberto's singing. Speak the name of Antonio Carlos Jobim in hushed, reverent tones.
By the way, the J's and G in "Jobim" and "Joao Gilberto" sound like the S in "fusion." The G in "Getz" doesn't.
Buy it!
Weather Report: Heavy Weather
Columbia, recorded 1977 in Hollywood.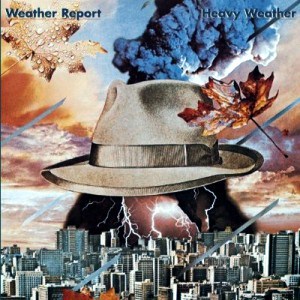 Why this album?
The fusion of jazz with rock would prove to be one of the most exciting and dynamic combinations in the history of either music. The band Weather Report did it with very listenable and memorable results.
Style:
Important people:
Josef Zawinul, keyboards, composer
Jaco Pastorius, electric bass, composer
Wayne Shorter, soprano and tenor saxophones, composer
What to listen for:
The prominence of electronic instruments, such as electric pianos, keyboard-based synthesizers, and electric bass guitar, which were rapidly proving themselves as very useful jazz instruments.
The stunning technique of Jaco Pastorius on the electric bass, which suddenly became a virtuoso instrument.
How to sound smart talking about this album:
Immediately and contemptuously dismiss any comparisons between Weather Report's original "Birdland" and the Manhattan Transfer's vocal cover version.
Buy it!
Your to-do list
Buy all of these albums, and play them in your personal compact disc player or pod-type device.
Write something awesome in the comments.
Tell your friends.
Embark with ears wide open on a lifetime journey through the wonders of jazz music, or whatever.
You should probably get started.