I am always pleased to hear from companies that want feedback on their products. And as you regular readers know, I try to be as thorough and honest as I can in my reviews. A couple of weeks ago I bumped into a Vandoren representative at a conference, and he offered to let me bring home some samples of a new product line for review. These haven't shown up on Vandoren's website or social media yet (though they do seem to have appeared on the Woodwind and Brasswind, a little prematurely!), so as far as I know this is an exclusive scoop. Update: WWBW has pulled the product listing. Update #2: read to the end for details on getting a free sample!
Vandoren has been doing some innovative things lately, and their new line of Maestro score-marking pencils is no exception. These are pencils specifically designed for the needs of the performing musician, and this focus is apparent in every detail. The pencils have a nice heft and balance to them, which the Vandoren rep tells me has to do with the hand-selected juniper wood harvested in the French Var Valley.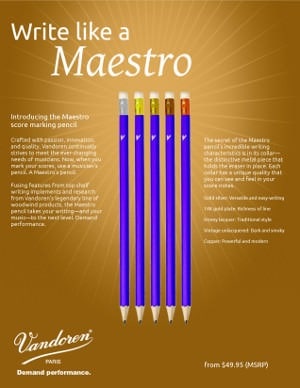 The premium erasers are some of the best I've used for score erasures—easy on valuable sheet music while removing the most stubborn pencil marks, with almost no smearing. They are currently available only in medium-soft, but my Vandoren source tells me they are "working on a medium-hard eraser, and a hard eraser geared toward professionals."
But, of course, the real question is: how do they write? I'm happy to report that, when it comes to writing, these pencils have exceeded my expectations in every respect. The "lead" (graphite, actually) is, I understand, a proprietary formula designed for smooth, even writing on a variety of papers. But this is only part of the story.
My Vandoren source tells me that the real "secret" is the collars—the little metal ferrules that hold the erasers in place. While some "researchers" have suggested that the collar has little actual effect on the pencil's writing characteristics, years of experience accumulated by some of the most respected woodwind players in the world say otherwise. And so I was not at all surprised to find that each collar has its own unique, shall we say, signature.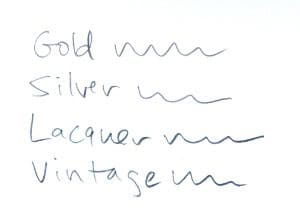 I found the 14k gold-plated finish (my personal favorite) to produce the darkest, richest line, and this is the model I recommend for musicians who need to make markings in their scores that are clear and bold without sacrificing nuance. The silver (solid, not plated) writes a bit lighter, though certainly not too light, and with an appealing uniformity of line; these versatile qualities may be especially well-suited to students. I was also able to try brass-collared pencils in a traditional honey-gold lacquer and a "vintage" unlacquered treatment. I found the lacquer model's writing legible but uninteresting, though the vintage had a freedom to it that I would like to experiment with further. There is also a copper-zinc alloy now in production; apparently there was some delay related to determining the exact percentages of each metal to use, and I was unable to try one.
The pencils have a MSRP of $49.95 for most models, individually packaged, with the gold-plated priced at $10 more, though Woodwind and Brasswind currently lists them for $34.95 and $39.95. A Maestro sharpener is in the works, and Vandoren tells me the target price range is "in the mid to high $200's."
Update: Vandoren USA has generously offered to distribute a few free samples to dedicated North American Vandoren fans! To claim yours, share this blog post on Facebook or Twitter (use hashtag #writelikeamaestro), and specify your choice of collar (gold, silver, lacquer, vintage, or copper). Or leave it in a comment below. Even better, do all three! Supplies are limited, offer ends midnight tonight (4/1/2013). Click here for official list of winners.